Ready to make balanced periods your reality?
MENSTRUAL CYCLE MAKEOVER

WHAT'S INCLUDED?

4 WEEKS OF VIDEO COURSE CONTENT

Learning Period Basics




Decoding Your Symptoms

Your Symptom Free Period

Aligning with Your Cycle

LIVE CALLS

1 LIVE course kickoff call

1 LIVE group Q&A call

BONUS CONTENT

Lower Your Toxic Load Masterclass

Hormonal Birth Control Recovery Masterclass

Cycle Tracking 101
THIS PROGRAM IS FOR YOU IF:
» You struggle with PMS, PMDD, PCOS, endometriosis, irregular/painful periods, or infertility & haven't gotten the help you need anywhere else
» You dread the arrival of your period every month
» You're fed up with guesswork and want to learn what your symptoms actually mean
» You cancel plans, miss work, or hide in the blanket burrito due to your debilitating period symptoms
» You're currently using hormonal birth control for symptom management, but not getting REAL relief
» You feel like your hormones are hijacking your life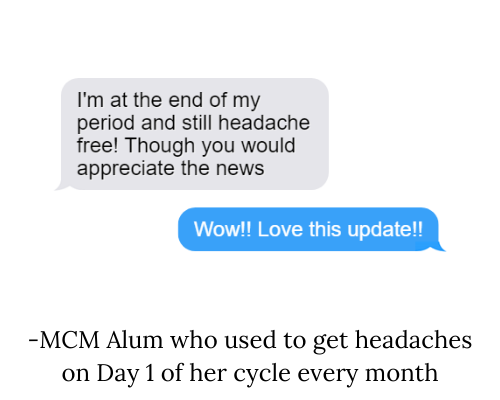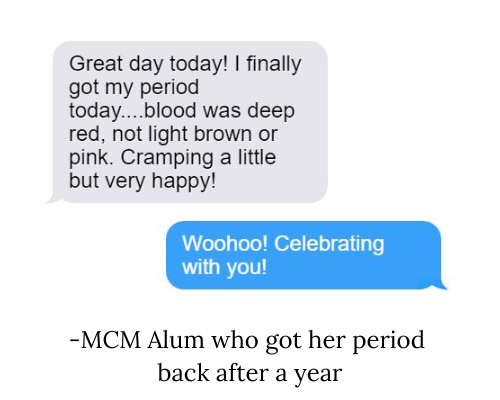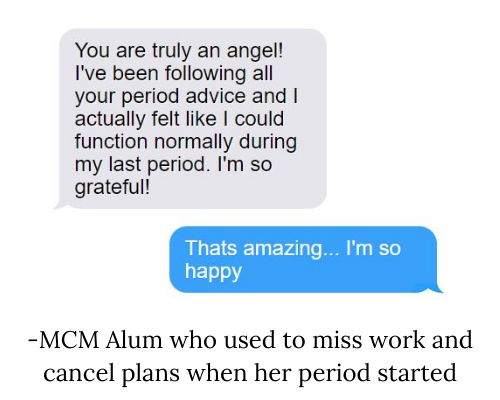 Hi there,
I'm Caitria. I created this course for you, because I've been where you are. I used to seriously LOATHE my cycle. My period derailed my life every single month for YEARS. In fact, I remember regularly having to leave class during my first year of acupuncture school because my period had me in so much pain. On top of that, I used to get insane sugar cravings....I literally ate a can of frosting (in bed, with a heating pad and a Netflix binge) on the first day of my period for years. Don't even get me started on the mood swings and fatigue!
All of this to say....I get it. I feel your struggle, and I'm here to help. I now have pain-free (and drama-free) periods that come and go with ease. I have deep respect for my period, and truly appreciate it as an aspect of my femininity and an indicator of my overall health.
Here's the part I really want you to hear: I'm not special. The sheer fact that this is possible for me means it's possible for you too. I took the exact process I used to heal my own cycle, and have since used for countless women in my clinical practice, and built it into an online program. That program is Menstrual Cycle Makeover, and the doors are open to you now.
Menstrual Cycle Makeover Begins
January 10th, 2022
You'll get instant access to a pre-course bonus content.... Cycle Tracking 101, Lower Your Toxic Load Masterclass, and Hormonal Birth Control Recovery Masterclass! Dig into the bonuses so you can start building momentum before we officially kick things off in the new year!
"Your menstrual cycle can tell you so much about what's going on internally and eliminating external and internal stressors can help tremendously. I love the way this course was organized! I feel like I have priceless information now for life and it really opened my eyes to a whole new world about my body. I'm so grateful, thank you!"
- MCM alum who previously struggled with irregular, painful periods
Will this help me even if I'm currently on birth control?
Yes! In fact, you'll want to dig into the Hormonal Birth Control Recovery masterclass ASAP! You can begin making changes that will help your body heal BEFORE coming off birth control, so the transition will be smooth and easy when you are ready.
What kind of results can I expect by the end of the course?
While we cannot guarantee results, this program WILL give you the tools you need to begin your journey toward a balanced cycle. Root cause healing takes time, and will be entirely based on your personal consistency and implementation of the information inside the course. Most participants begin begin seeing subtle shifts in symptoms within the first month and with continued consistency, more dramatic changes will come. 
What if I'm not sure this program is right for me?
Do you offer refunds?
All purchases are final. No refunds will be given on this digital offer.
Pssst!! Wanna know a secret?
This isn't just a 4 week course. It's actually so much more than that. This is a method you can learn, implement, rinse, & repeat as needed for as long as you have a period. You've got lifetime access to all the tools you need to heal....today, tomorrow, and 10 years from now.
WHAT'S INCLUDED IN EACH WEEK?
Week 1 - Learn The Period Basics
What's normal vs. what's common when it comes to your period (spoiler alert...it isn't supposed to suck)
Cycle phases, hormone shifts....the more you know, the better you can support yourself 

Rewriting beliefs....what have you always believed to be true about your period that you're ready to un-learn?
Not all feminine care products are created equal! Some might be toxic or harmful to your body. We'll cover recommendations for what to use so you can feel confident and safe. 
Get ready to learn all the important women's health info they didn't teach you in high school health class
Week 3 - Symptom Free Periods
Have you ever stopped and imagined a symptom free period? Like really imagined. With your mind, emotions and whole body? What does it feel like? We'll walk through this together. To change your body, you must change your beliefs (Week 1), knowledge (Week 1 &2), feelings and actions. (Week 3-4)

This week we're digging into the day-to-day habits that will make a symptom free period possible. We'll talk nourishment, sleep, stress, herbs, supplements, and everything in between
And of course - practical management of common symptoms so you can adjust and provide for your body's needs in real time.
It's time to lock in the energetic AND practical aspects of experiencing a pain free period
Week 2 - Decoding Your Symptoms
Symptoms are SIGNALS from the body. This week you'll ditch "Dr. Google" for good when we cover the true meanings of common period symptoms including:
PMS
Lack of ovulation
Cycle length
Irregular cycles

Clots
Headache/migraine
Fatigue
Moodiness
Your period is your fifth vital sign. What is it trying to tell you about your body & overall health?
Week 4- Aligning With Your Cycle
Working period medicine into everyday life should be practical and realistic. Your cycle is also a great source of energy, intuition, and connection to self. 
We'll cover appropriate physical exercises for all phases of your cycle so you can stay in tune with your body movement month to month. 
Period health is preventative health. Gynecological issues are a leading source of doctors visits for women. Learning about your cycle now can keep you in-the-know about your body so you can stay on top of any  changes to your health.
Living in alignment with your cycle - with ease- is your new reality